6th Annual
Multicultural
Festival
November 25 & 26, 2023 in Downtown Orlando
@ Seneff Arts Plaza at The Dr. Phillips Center for the Performing Arts -
445 S. Orange Ave, Orlando, FL
Buy a souvenir water bottle or bring a reusable bottle for FREE WATER at the festival.
Check out all the things happening at FusionFest 2023.
Water will be free this year. Bring your refillable bottle or purchase a beautiful souvenir FusionFest water bottle at the "Festival Merch" booth.
Craft your masterpiece inspired by cultures from around the world. Sign up at the Festival for a 1/2 hour class. Space is limited.

Sat. 11am - 7pm
Sun. 1-5pm
Witness a Historic Moment at Fusionfest Opening Ceremony as nearly 2 dozen immigrants take their oath of citizenship in an inspiring collaboration with USCIS

Sat. 10am
Country Meet ups & Photo opp
Find your tribe at FusionFest's Country Meet-Ups! Whether you're reuniting with compatriots or exploring new cultures, it's your passport to global connections. Come, mingle, and let the world become your neighborhood.

Sat. 11am - 6pm, Sun. 1-5pm
Step into a world of wonder at Fusionfest's Cultural Displays! EXplore vibrant traditional wear, age old traditions, and the rich tapestry of global cultures. Be inspired and immerse yourself in the beauty of diversity!

Sat. 11am - 6pm, Sun. 1-5pm
Discover a world of imagination at FusionFest's Family Village with Kid's Global Village, Giant Puppet Friends, Arts & Crafts Projects and Fun & Games

Sat. 11am - 7pm, Sun. 1-5pm
Sponsored by Publix
fashion heritage showcase
The runway at FusionFest will come alive with a colorful tapestry of fashion from around the world, reflecting the diverse origins and heritages of the Central Florida community.

Sun. 2pm
Wander through the Field of Flags! After being proudly carried by local ambassadors from over 100 cultures in the FusionFest parade, these flags find their home here. Capture a moment besides your favorite flag and revel in Central Florida's rich Diversity!

Sat. 10am - 5pm, Sun. 1-5pm
Ever have a stranger brighten your day with a flower? Experience the magic at FusionFest's Find-a-Friend Flowers! Step out of your comfort zone, receive a flower, and let serendipity guide your FusionFests journey. Sponsored by Momentum Solar.

Sat. 10am - 5pm, Sun 12 - 5pm
Enchanting and larger-than-life parade puppets dance and play in our Opening Spectacle before they take their place for the perfect photo opp. Stop by for a fun picture!

Sat. 11am - 7pm, Sun. 1-5pm
Experience the enriching diversity of short informative talks and interactive experiences by our own community members

Sat. 11am - 7pm, Sun 1 - 5pm
See that older gentleman on the rocking chair over there? That's Grandpa Nunu. If you go up to him and say "Hi, Grandpa Nunu," he'll talk with you as though you're a member of the family. You can talk about anything you like. What you say can be fact or fiction.

Sat. 11am - 5pm, Sun 1-5pm
international market place
Shop the bustling bazaar of at FusionFest's International Marketplace. Explore and shop global crafts and unique souvenir from around the world!

Sat. 11am - 7pm, Sun. 1-5pm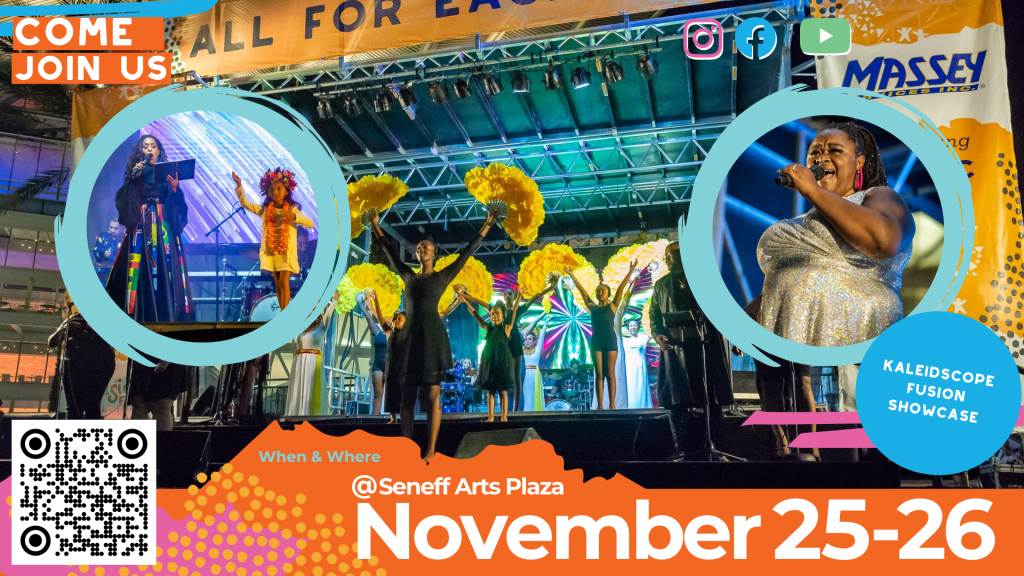 kaleidoscope signature showcase
Experience the Wonders of Creative Collaboration: FusionFest's most captivating show, curated and produced by Cece Teneal. This awe-inspiring piece is at the heart of FusionFest's vision, fostering a space where artists from diverse cultures come together to create a harmonious celebration of unity.

Sat. 7:15pm
A place where kids can navigate through kid-sized cardboard "homes and buldings" from around the world, designed and built by the Young Architects Forum.

Sat. 11am - 7pm, Sun 1-5pm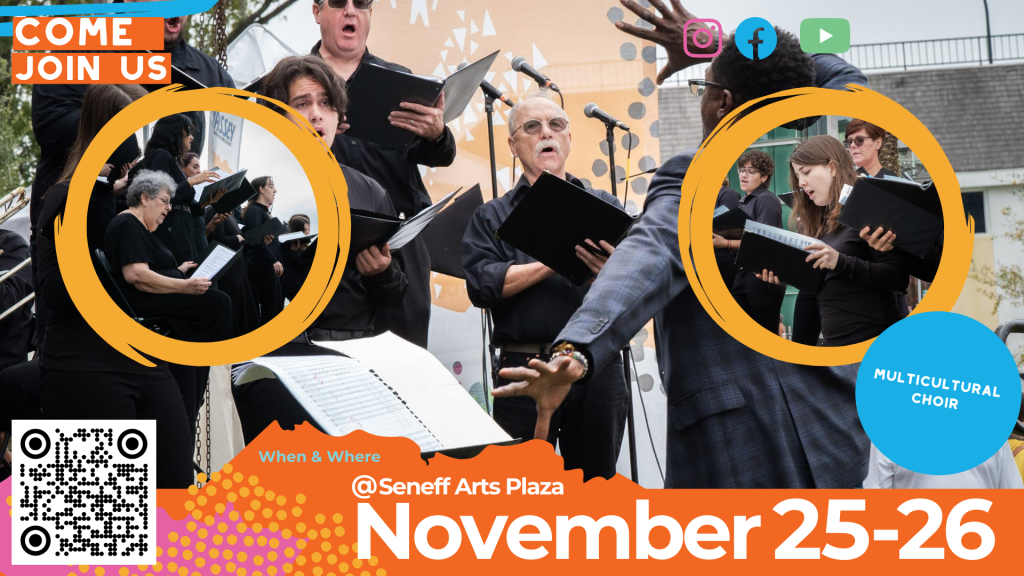 Closing the Festival with a harmony of cultures lending their voices singing songs of joy and hope. Led by Grammy-Award winning conductor Jeffrey Redding.

Sun. 5pm
Multi-cultral Faith Celebration
Local faith leaders representing different approaches to the divine, in partnership, will host a joint service with the Interfaith Council

Sun. 12pm noon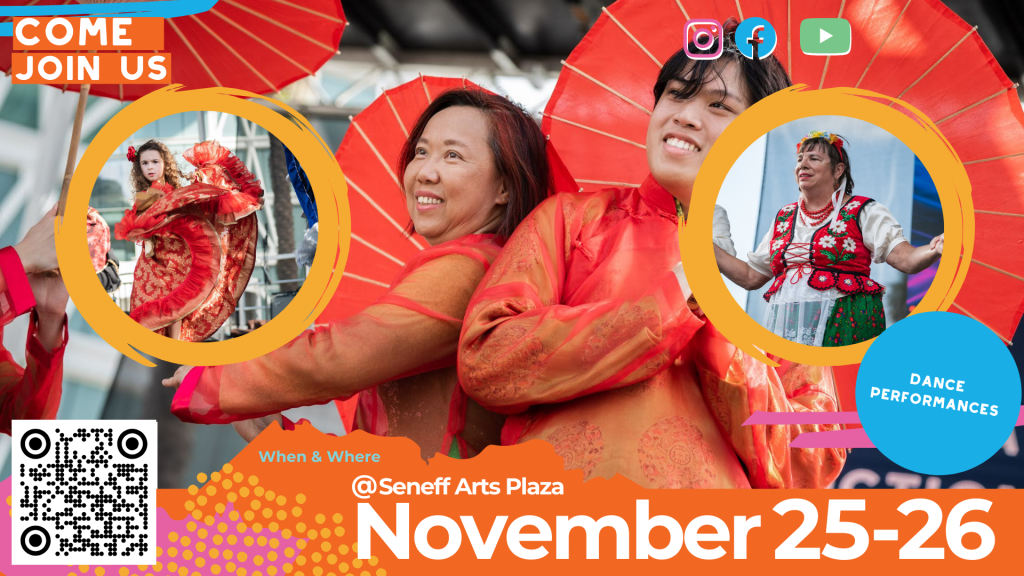 Experience the magic of FusionFest's Music & Dance Performances on two stages! Get entranced by a rhythmic journey as local artists from varied backgrounds unite to showcase their unique musical and dance tales. Enjoy the symphony of cultures.

Sat. 11am - 7pm, Sun. 1-5pm

Large stage sponsored by Massey Services

Experience powerful stories of global journeys at FusionFest's MYgration films, in collaboration with the Global Peace Film Festival. Immerse yourself in short documentaries that capture Central Floridians' migration tales and be moved by the art of cinematic storytelling.

Sun. on the Massey Stage throughout the day
opening spectacle with citizenship ceremony
Witness a historic moment at FusionFest's Citizenships Ceremony! Join us at the start of the festival to celebrate as nearly two dozen individuals take their oath, in an inspiring collaboration with the USCIC. Surrounded by marching bands, hundred of flags and talented performances.

Sat. 10am
Witness the power of words at Fusionfest's lyrical showcase! See poet's step to the mic; delivering slamming verses. Be captivated by the rhythm and flow; join us and feel the poetic pulse of FusionFest! Cash prizes totaling $1,000 will be awarded.

Sat. 4pm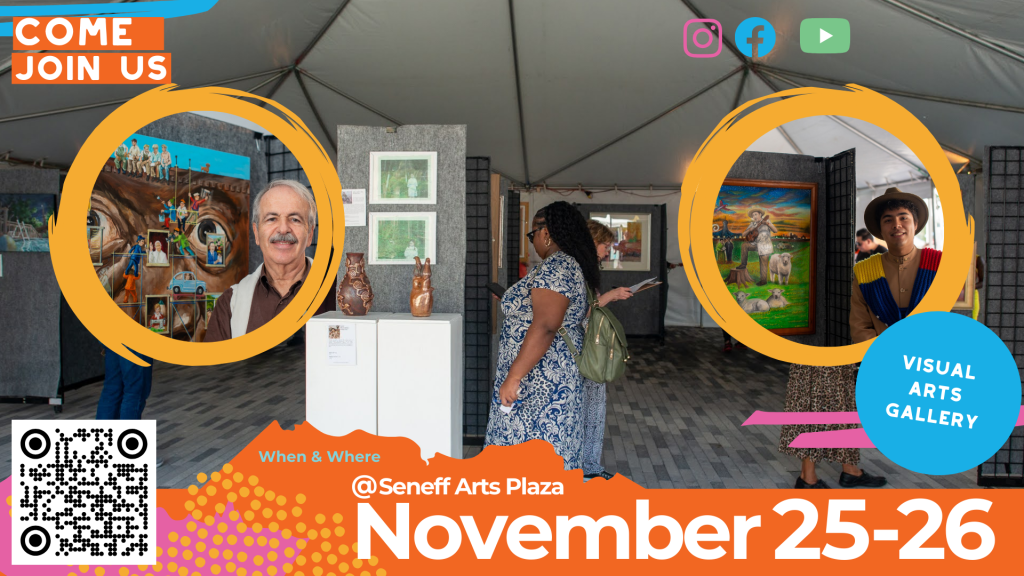 Festival attendees wearing traditional clothing reflecting their cultural heritage can receive a free professional portrait by an esteemed member of the Diplomatic Corps of Colombia, Juan David Tena. He has documented Presidents, Popes and Royalty and been published by major press. These portraits will be part of a FusionFest exhibition, eventually. You can observe the master portrait maker at work or get a portrait taken yourself if he is able to take you between reservations. To be certain of getting your portrait taken, please make a reservation.
Embark on a thrilling scavenger hunt at FusionFest and uncover hidden treasures! Dive into the festival's wonders and finish your adventure at the Prize Booth for enticing rewards. Ready, set, explore!.

Sat. 11am - 8pm, Sun 1-5pm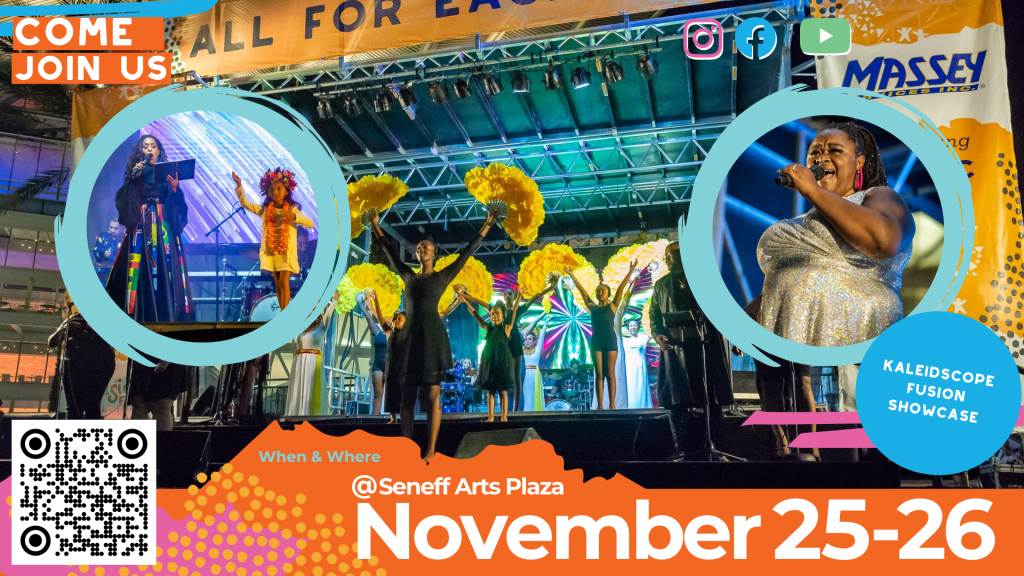 Step up to FusionFest's Share Your Story Booth and let your voice be heard! Dive into an interactive experience and share your unique cultural journey with us. Don't just attend; tell your tale and it will be archived at the Orange County Regional History Center!

Sat 11 am – 5 pm, Sun 1-5 pm
Join the audience as Storytellers take you to far off places through folk tales, legends and more. Experience life through a different lens culturally and emotionally.

Sat. 11:30am, 12:30pm, 1:30pm 3:00pm 5:30pm & 6:30pm
Sun 1:30pm, 2:30pm, & 4pm

Schedule of Storytellers coming soon!
Who says kids don't have something to say? Listen to these creative kids passionately pouring out their own poetry.

Sat. 2:30pm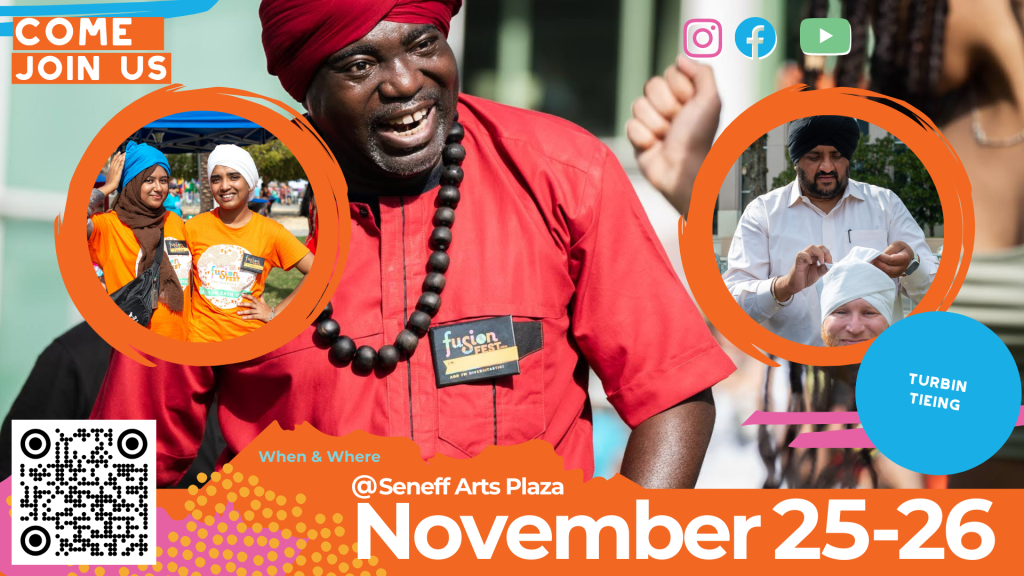 Wrap your head around wearing a colorful turbin wrapped around your head by a member of the Sikh Society of Central Florida. What is it like to sport this headwear and how do we go from a simple piece of cloth to an intricate turbin?

Sun. 1-5pm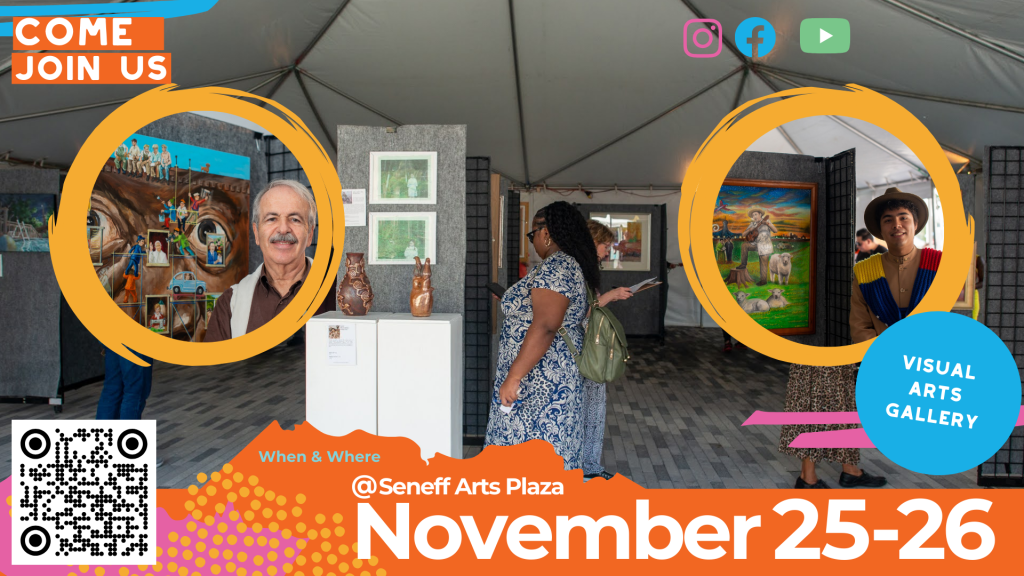 Visit our Gallery that's unlike anyother. A visual masterpiece that reaches around the globe to reveal how the "artists share their culture in color compositions.

Sat. 11-6, Sun. 1-5pm

Oluwasegun Akeredolu, Hend Al-rijab, Lavanya Arulselvam, Sarahy Boraure, Olena Datseva, Juan David Tena, Emmanuel De Guzman, Sanjana Deshmukh, Sabrina Dessalines, Bernard Foong, Emery Graham, Dafeney Josue, Lemus German, Valerio Mazzoli, Luis Medina, Elsie Michielsens, Adriana Moa, Mercedes Moreno, Moschburg, Cailin Alainn, Vicky Patrikakos, Blotched Peony, Wilma Rogers, Melissa Rudge, George Stuart, Gabriela Burlamaqui, Forrest Wilson, Areej Zufari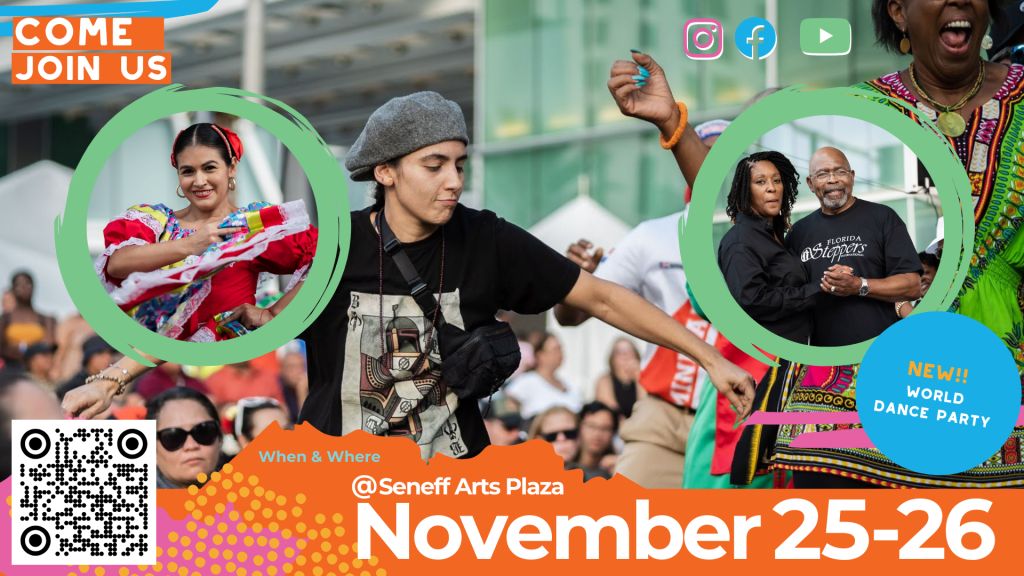 Groove to global rhythms at FusionFests's World Dance Party! Let music from every corner of the world move your feet and soul. Don't just stand there...Join the party! If you can't hear the music, that's because we've got headphones for each participant to make it a silent disco party!

Sat. 11am - 7pm, Sun 1-5pm
Open
Area
Close
9:45 AM
Puppet Greeters at front gate
10:00 AM
10:00 AM
Opening Spectacle with FusionFest Citizenship Ceremony
11:00 AM
10:00 AM
Music & Dance performances as well as MYgration Films
7:15 PM
10:00 AM
Foods of the World
8:00 PM
10:00 AM
Fusion Food
8:00 PM
11:00 AM
Find-a-Friend Flowers
5:00 PM
11:00 AM
Global Exchange
5:00 PM
11:00 AM
Share Your Story
5:00 PM
11:00 AM
Country Meet-Ups & Photo Op
6:00 PM
11:00 AM
Cultural Displays
6:00 PM
11:00 AM
Giant Puppet Friends Display
6:00 PM
11:00 AM
Visual Art Gallery
6:00 PM
11:00 AM
Fun & Games
7:00 PM
11:00 AM
International Marketplace
7:00 PM
11:00 AM
World Dance Party
7:00 PM
11:00 AM
Arts & Crafts Projects
7:00 PM
11:00 AM
Kid's Global Village
7:00 PM
11:00 AM
Grandpa Nunu
7:00 PM
11:00 AM
Scavenger Hunt & Prize Booth
7:00 PM
11:00 AM
Allen Stage Teen Poetry Showcase & performances
7:15 PM
11:00 AM
Field of Flags
8:00 PM
11:30 AM
Storytelling (also 12:30, 1:30, 3:00, 5:30
and 6:15 PM)
11:45 AM
Noon
Kid's Cosplay Showcase & Contest
12:30 PM
1:00 PM
Adult Cosplay Showcase & Contest
1:30 PM
2:00 PM
Haiku Contest & Awards
2:30 PM
2:30 PM
Teen Poetry Showcase
2:45 PM
3:00 PM
Visual Art Awards
3:15 PM
4:00 PM
Poetry Slam & Awards
5:00 PM
7:15 PM
Kaleidoscope
8:00 PM
| Open | Area | Close |
| --- | --- | --- |
| 11:45 AM | Puppet Greeters at front gate | Noon |
| Noon | Multicultural Faith Celebration | 1:00 PM |
| Noon | Music & Dance performances as well as MYgration Films | 5:00 PM |
| Noon | Foods of the World | 5:00 PM |
| Noon | Fusion Food | 5:00 PM |
| 1:00 AM | Find-a-Friend Flowers | 5:00 PM |
| 1:00 PM | Fun & Games | 5:00 PM |
| 1:00 PM | International Marketplace | 5:00 PM |
| 1:00 PM | Cultural Display | 5:00 PM |
| 1:00 PM | Visual Arts Gallery | 5:00 PM |
| 1:00 PM | Country Meet-Ups & Photo Op | 5:00 PM |
| 1:00 PM | Arts & Crafts Projects | 5:00 PM |
| 1:00 PM | Kid's Global Village | 5:00 PM |
| 1:00 PM | World Dance Party | 5:00 PM |
| 1:00 PM | Field of Flags | 5:00 PM |
| 1:00 PM | Giant Puppet Friends | 5:00 PM |
| 1:00 PM | Global Exchange | 5:00 PM |
| 1:00 PM | Scavenger Hunt & Prize Booth | 5:00 PM |
| 1:00 PM | Share Your Story | 5:00 PM |
| 1:00 PM | Grandpa Nunu | 5:00 PM |
| 1:00 PM | Allen stage performances | 4:45 PM |
| 1:00 PM | Turban Tying | 5:00 PM |
| 1:30 PM | Storytelling (also 2:30 & 4:00 pm) | 1:45 PM |
| 2:00 PM | Heritage Fashion | 7:15 PM |
| 2:30 PM | Fusion Fashion | 7:15 PM |
| 3:30 PM | Fusion Design Awards | 3:40 PM |
| 5:00 PM | Multicultural Choir Concert | 6:00 PM |
Stay In Touch : Follow Us